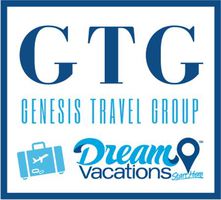 Genesis Travel Group Dream Vacations
Genesis is defined as the origin or new beginning. Genesis Travel Group is the origin of a partnership dedicated to the value of amazing travel experiences.
With more than 2 decades in the travel industry, and trips to dozens of countries, we have seen just how travel experiences can be life-changing.
You may be traveling for work, for fun, for relaxation, or adventure. You may even be traveling for philanthropic or religious reasons. Whatever your reason, Genesis Travel Group wants to help give birth to your unforgettable travel experience!
We commit to provide competitive pricing with great perks and promotions, along with personalized service. We also commit to keeping you informed by sharing information, tips, and tools to maximize your travel experiences. As a Dream Vacations franchise, we have access to a multitude of resources and tools provided by a powerhouse in the travel industry. The power that Dream Vacations has in the industry will be a major asset, allowing us to provide exceptional travel concierge service. We look forward to making your travel dreams come true!