2023 Networking Women's Career Fair
May 18 @ 10:00 am

-

3:00 pm

Free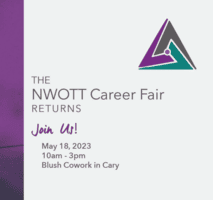 Career Fair – Networking Women of the Triangle job seekers, recruiters, and employers – this is for you! Share with your network and invite a guest to come.
Job seekers – this event is FREE. Please RSVP if you plan to attend. More details including the employers' list can be found below.
***PLEASE CHECK YOUR SPAM FOR YOUR EMAIL CONFIRMATION & TICKET***
A bit about us, Networking Women of the Triangle is a very diverse and inclusive group, comprised of job seekers, business owners, recruiters, and networkers. We have a community of over 45,000 local women (including some who are actively trying to move to the area). Our inclusiveness attracts professional women from all industries, backgrounds, and experience levels. You can read about us on our website: www.nwott.org/about but our largest presence is in our Facebook group.
---
Presenting Sponsor – Blush Cowork
Blush Cowork is a women-focused coworking space with childcare.
Blush is inclusive and open to all, but focused on creating a safe and welcoming space for women to work, collaborate, achieve, and flourish. Its location in Cary makes it easy to drop in, whether it's just you, your team, or even with children in tow. They believe that childcare should not be a luxury and realize what a huge factor reliable, safe childcare plays in any parent's potential to be productive or creative. They are proud to partner with Hopscotch Labs to provide Montessori-inspired playcare right at Blush.
We're excited to have our career fair at Blush, and yes, affordable childcare is an option for attendees. You can indicate interest in this service when you register.
Premier Employers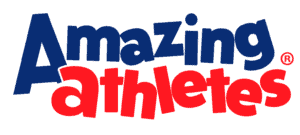 Amazing Athletes partners with schools in the area to help set kids on a path to an active and healthy lifestyle by teaching them the basics of sports, health, and nutrition. By introducing kids to a variety of sports and physical activities, they give them an opportunity to discover and explore to find what they most enjoy and can pursue as they grow.
They are interested in hiring potential coaches to implement their sports and fitness program in preschools and childcare centers in the Triangle.
WakeMed is the best hospital/health system to work for in North Carolina, according to a ranking published by Forbes magazine.
Serving the community since 1961, WakeMed Health & Hospitals is the leading provider of health services in Wake County. With a mission to improve the health and well-being of our community, they are committed to providing outstanding and compassionate care.
Areas of recruitment: Nursing and lots of various opportunities.
Employers
GCS Cleaning Solutions LLC
NC Office of State Human Resources
Non-Profits
1pm Breakout Session Exhibitor
Reserve your spot here.
Brand You! Leveraging the Power of Personal Branding to Accelerate Your Career.
Personal branding is an essential tool for accelerating professional growth in today's world. Join this live program to hear Denitresse Ferrell, founder and CEO of Culture Refinery, share ways you can harness the power of product marketing to create a personal brand to help you gain professional clarity, strategically activate your network, and build confidence as you level up your leadership presence and accelerate your career. In this interactive session, participants will:
– Understand the fundamentals of product marketing leveraged by top brands and taught at leading business schools
– Identify the connections between product branding and personal branding
– Develop their own personal brand strategy
Career Fair Headshot Photographer
Register here for headshots.
Other Exhibitors
They help professionals with limited experience and education break free from their low income paying jobs, increase their qualifications, and start landing higher paying positions with an easy 5-step Keystone Method.
Tickets are not available as this event has passed.