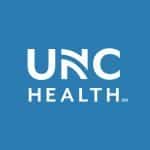 Summary:
Provides care of patients by optimizing medication use and drug distribution services.
UNC Children's Hospital
UNC Children's clinical home, N.C. Children's Hospital, is a major referral center for children with complex conditions and consistently recognized by U.S. News & World Report as one of "America's Best Children's Hospitals" on its annual list. N.C. Children's Hospital has 150 inpatient beds and a comprehensive children's outpatient center located in the same building, enabling patients to see multiple specialists in a single visit.
Department of Pharmacy Overview:
The Department of Pharmacy is a dynamic and critical part of patient care provided by the UNC Health Care system. UNC's Department of Pharmacy is an organization of more than 500 dedicated employees with focused attention on caring for patients of the UNC Health Care system. We are culturally diverse and have a variety of backgrounds, interests, capabilities, and experience.
The Department is highly interactive with the University of North Carolina Eshelman School of Pharmacy, located on the same Chapel Hill campus. UNC Hospitals and Clinics acts as a major clinical and administrative training site for these pharmacy students. In addition, the Department of Pharmacy has> 40 pharmacy residents in a variety of general and specialty training environments.
Pediatric Pharmacy
Our mission is to provide quality, patient-centered care, in collaboration with other healthcare professionals, for all pediatric patients within the Children's Hospital by practicing evidenced-based medicine, optimizing medication use and distribution while ensuring medication safety. The Pediatric Services at UNC Hospitals and Clinics are in a period of growth. Both UNC Hospitals and the Department of Pharmacy have realized the significant potential that exists through enhancing current Clinical and Operational pharmacy services within the pediatric division.
The team is seeking a highly motivated, energetic, and dynamic pharmacist that will help further expand upon the existing award winning practice model in the area of Pediatric Pharmacy Services. The pharmacist will work in a multidisciplinary clinic environment as well as in the inpatient setting as a Clinical Pharmacist Practitioner (CPP) to provide comprehensive pharmaceutical care to Pediatric Endocrinology patients. As a CPP you will be granted prescriptive authority to allow more independent management of patients under the supervision of your physician group. In addition, the position will be responsible for taking students from the UNC Eshelman School of Pharmacy as well as precepting both PGY1 and PGY2 residents in pediatrics and solid organ transplantation.
Responsibilities:
Drug therapy management of Pediatric Endocrinology patients
Tests to be used as a means of appropriately dosing and monitoring efficacy and safety of medication therapy are authorized for ordering by the CPP.
Medication reconciliation and counseling to facilitate communication and appropriate therapy
Precept pharmacy students and residents and provide didactic education
Respond to drug information requests
Protocol and guideline development
Participation in research and quality improvement initiatives
Preferred Skills/Experience:
Completion of an ASHP-accredited Pharmacy Practice (PGY1) Residency, Specialty (PGY2) Residency in Pediatrics, and/or equivalent work experience in pediatrics and/or rheumatology is preferred.
Experience in an ambulatory care environment is preferred.
Must possess and demonstrate excellent communication skills; leadership skills; self-initiative, innovative, and collaborative skills; analytical and organizational skills.
Must demonstrate behaviors consistent UNC Healthcare's Core Behaviors as a guiding principle.
Academic appointment with the UNC Eshelman School of Pharmacy is available, commensurate with experience.
Lean or Six-Sigma training/certification with demonstrated application of its principles.
Education Requirements:
● Bachelor's degree in Pharmacy.
Licensure/Certification Requirements:
● CPP must by a registered Pharmacist and licensed CPP in the state of NC. Credentialing and Privileging must be completed through the appropriate UNC HCS accrediting body as an APP prior to start date.
Professional Experience Requirements:
● North Carolina registered Pharmacist:. BS Pharmacy or Pharm D. BPS Certification or Geriatric Certification or ASHP residency program + 2 years of experience
● North Carolina Registered Pharmacist:. Pharm D. 3 years experience. 1 certificate program
● North Carolina Registered Pharmacist:. BS Pharmacy. 5 years experience. 2 certificate programs
Knowledge/Skills/and Abilities Requirements:
Job Details
Legal Employer: STATE
Entity: UNC Medical Center
Organization Unit: Pharmacy Pediatrics
Work Type: Full Time
Standard Hours Per Week: 40.00
Work Schedule: Day Job
Location of Job: US:NC:Chapel Hill
Exempt From Overtime: Exempt: Yes
This is a State position employed by UNC Health Care System.
Qualified applicants will be considered without regard to their race, color, religion, sex, sexual orientation, gender identity, national origin, disability, or status as a protected veteran.
UNC Health makes reasonable accommodations for applicants' and employees' religious practices and beliefs, as well as applicants and employees with disabilities. All interested applicants are invited to apply for career opportunities. Please email applicant.accommodations@unchealth.unc.edu if you need a reasonable accommodation to search and/or to apply for a career opportunity.