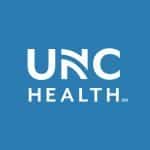 Website UNCH_Careers UNC Health
Explore job opportunities with UNC Health!
New Graduate RN Hiring Event | UNC Health Rex
March 23, 2023 | 1:00 p.m. – 4:00 p.m.
Event location: NC Heart and Vascular Heart Hospital, 2800 Blue Ridge Road, Innovation Learning Center, Auditorium A & B
Upcoming Nurse Graduates, if you want to work with one of the top hospitals in the country, join the team at UNC Health Rex in Raleigh or Holly Springs! We have great New Grad opportunities available. At this event you will talk with Hiring Managers from a variety of units throughout the hospital, explore the facility, interview for opportunities and maybe even walk away with a job offer! Secure your spot now so you are ready to go when you graduate!
UNC Rex Healthcare has been named the first Magnet hospital in the Triangle as well as one of the "World's Best Hospitals" in 2021 by Newsweek Magazine, and named the "Number 1 Hospital in the State" on Business North Carolina's 2021 list of North Carolina's Best Hospitals.
New Grad RNs qualify for up to $25,000 in tuition loan forgiveness as well as up to $5,000 in relocation assistance!
We are looking for New Grad RNs to join our team in the Medical Surgical unit in Holly Springs as well as the following areas at UNC Health Rex in Raleigh:
• 3 West Acute Care Medicine
• 3 East Acute Care Short Stay
• 4 East Medical Stepdown Unit
• 4 West Medical Surgical Progressive Care Unit
• 5 East Acute Care Oncology
• 5 West Acute Care Neuroscience
• 6 East Acute Care Surgical Short Stay
• 6 West Orthopedics
• 7 East Acute Care Adult Bariatric
• 7 West Acute Care General Surgery
• Medical Surgical ICU
• Neuro ICU
• 4 HV Cardiovascular ICU
• 5 HV Cardiovascular Surgical ICU
• 6 HV Cardiovascular Surgical Stepdown Unit
• 7 HV Cardiac Medicine Intermediate Care
• 8 HV Cardiac Intermediate Care Unit
• Operating Room
• Periop
• SRT (Staffing Response Team)
How do I qualify?
Graduation from school of professional nursing. Licensed to practice as a Registered Nurse in the state of North Carolina by the day of clinical care. Basic Life Support (BLS) for Healthcare Provider certification.
What is defined as a new graduate nurse?
• Nursing student in their final semester of nursing program or;
• Nursing graduate within 12 months of graduation; and
• RN who has worked less than 6 months as a registered nurse.
How do I Participate?
Step 1: RSVP by selecting the "Apply Now" button at the top or bottom of this page.
Step 2: You will receive an email confirmation from Sherie Royster, which will contain additional event details and instructions.
Step 3: Join us during your scheduled interview time at UNC Health Rex 100A Birth Center, 4420 Lake Boone Trail, Raleigh, NC 27607 on March 23, 2023. Walk-ins are also welcome! Don't forget to bring a mask and your resume.